LGMG Brings a Variety of New, Green, Electric-powered Products to the 2022 Bauma Show
On October 24, 2022, bauma2022 kicked off in Munich, Germany. LGMG brought 16 new products, including telescopic boom lifts, articulating boom lifts, scissor lifts, vertical mast lifts, crawler scissor lifts and other models, showing the world our reliable, high-quality products and low-carbon intelligent development path.
On October 25, LGMG held a new product launch conference with the theme "Green·Efficient·Innovative". The conference was attended by Shi Yanyu, Deputy General Manager of LGMG, Song Yuxing, Director of LGMG International MEWP Division, and Wim de Jong, Operation Director of LGMG European BV, as well as association leaders, overseas customers, major European aerial work equipment customers, and industry media.
Mr. Shi Yanyu, Deputy General Manager of LGMG, gave a speech at the conference. He outlined LGMG's goals for developing electric-powered products and for digitalization, as well as the company's commitment to carbon reduction and implementation of green solutions and reduction of emission. Via these goals, LGMG is doing its utmost to create new motivation and intelligent construction solutions for customers. Mr. Shi stated that LGMG is looking forward to working together in the future with its many customers and partners, both new and well-established, to create a new chapter of green development!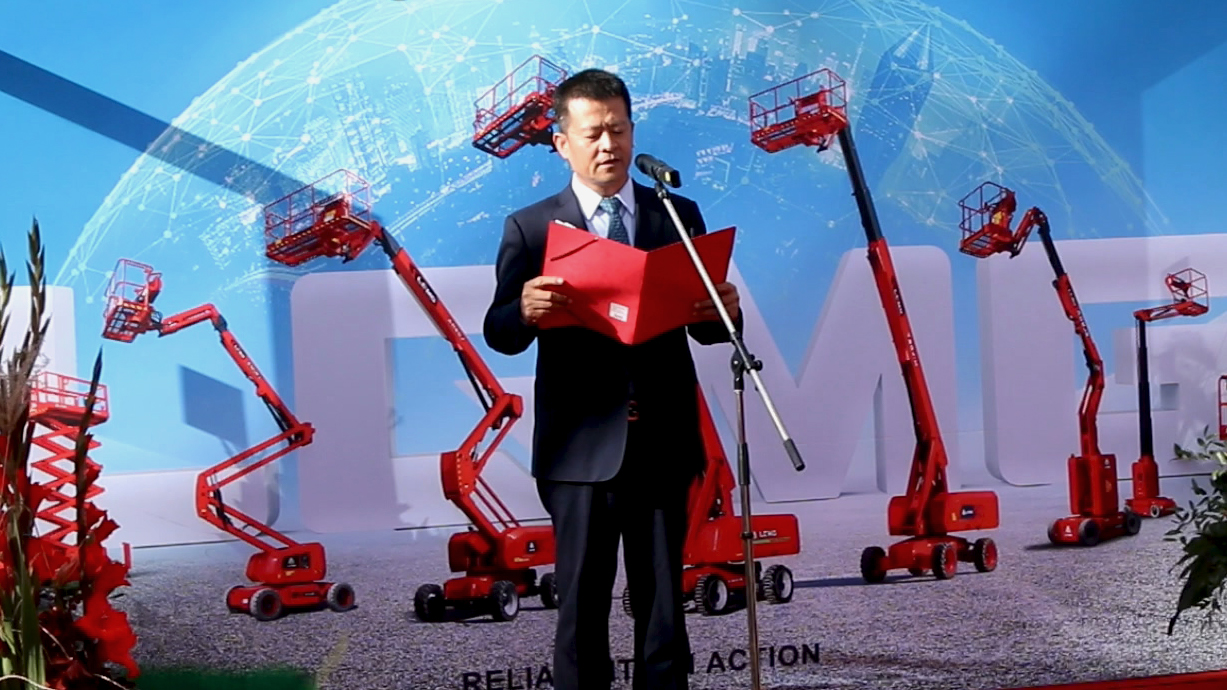 "LGMG has always been committed to building an international construction machinery business." Mr. Shi said that LGMG actively explores overseas markets with a domestic and global development vision. LGMG's European and North American companies have been established one after the other in quick succession. With this rapid progress, along with the comprehensive efforts in Asia-Pacific markets such as South Korea, Japan, Australia, and Singapore, LGMG's international development has entered a period of acceleration.
Wim de Jong, Director of Operations in European, introduced and summarized the rapid development of the European Division in recent years. He promised that LGMG will provide European customers with high-quality products and ongoing service. LGMG is committed to using local talents, local operations, and local services. This allows LGMG to meet the needs of the local market, accurately position products, and steadily expand its overseas business.
At the Bauma show in Germany, LGMG exhibited its new electric telescopic boom lifts and engine-powered high capacity telescopic boom lifts that launched overseas in 2022. The platform height ranges from 20 meters to 28 meters, matching the industry standard. At the same time, a number of new models were displayed. The launch of the A09JE and A13JE-Li compact articulating boom lifts has enriched LGMG's articulating boom lift product range. The M0407TE and M0810JE vertical mast products, SC0407E crawler scissor lift and other new products have greatly expanded LGMG's product categories. Most of the models exhibited this time are new energy products, which integrate LGMG's new R&D achievements and production processes in the field of aerial equipment, and continue the green, safe and reliable design which LGMG's products are known for. LGMG's products offer efficiency and practicality, energy saving and environmental protection, flexibility and convenience, safety and reassurance. In addition, LGMG also exhibited its first ever telehandler model, H1840, at the Bauma exhibition, marking LGMG's official entry into the telehandler industry.
Many new products on display this time will soon be delivered to our European customers. For more new product information, please follow our official updates at www.lgmglifts.com .